So for the second time in my life I watched the entire Oscar show. In fairness to me, it was to impress a beautiful woman. Ok, it was my mom. The evening began with these inane superficial "reporters" who pissed me off, to set the mood for the evening. For every "Who are you wearing" I was heard to retort, "Shut the fuck up asshole."
Chris Rock was this generation's version of Dave Chappelle and Billy Crystal, except not at all. I will say that his political humor was not biased at all. He simply made accurate observations about Mr. Bush and then constructed a humorous metaphor. To those who thought it was politically bias, are you saying that Bush has not run up a huge national debt and did not claim that there were weapons of mass destruction in Iraq? And you would be denying the fact that Iraq didn't have weapons of mass destruction. Also you would be implying that if he worked at the Gap he wouldn't be fired. Ridiculous, simply ridiculous; although all options are on the table. (That last sentence constitutes Bush's Iran policy when answering questions about an imminent attack against Iran).
I also enjoyed Chris Rock slamming Sean Penn, the great great great great great great great great great great great great grandson of William Penn, the man who "discovered" Pennsylvania.
I was rooting for Jamie Foxx to win for supporting actor, because I saw that movie, Collateral. But I like Morgan Freeman, so it's all good. I'm glad Jamie Foxx won for best actor, but I also liked Don Cheadle. I saw Ray and Hotel Rwanda. I like both a lot, but actually I thought Hotel Rwanda was better. So I was surprised it wasn't nominated for best picture. Jamie Foxx's speech was obviously very moving.
By the way, the fact that four black people were nominated for acting awards is not really a great deal. It's a testament to the discrimination in the movie industry that it is a big deal more than anything else.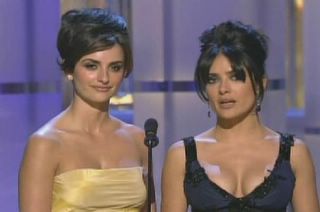 Penelope Cruz and Salma Hayek. Hey! they were at the Oscars! it's relevant!!!